With more than 165 years of experience and a superior command of twin screw technology in many applications including oil & gas, chemical, petrochemical and marine, as well as food and pharmaceutical, Bornemann is a worldwide leader in its field. Bornemann twin screw pumps are highly refined versions of the positive displacement principle, employing patented machining processes for the screw manufacture. Bornemann's policy is to be an innovative, qualified and reliable partner to its customers every step of the way while providing a truly unique service.
Learn More >
Applications:
High Viscosity Applications
Technology Advantage
Efficient and economical solution.
Tailor-made solution for the most varying environmental conditions.
Long, trouble-free service life.
Professional maintenance and care on site.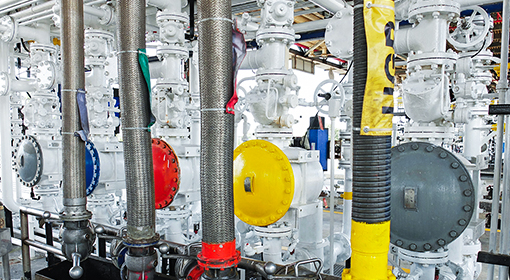 ITT's extensive experience handling some of the world's most hazardous and corrosive chemicals allows us to partner with our customers to improve their plant efficiencies. With an established track record of increasing reliability, reducing downtime, and focusing on safety; ITT is a trusted name for the most critical applications in the industry.
Learn More >

Applications:
Highly corrosive applications
Technology Advantage
Knife Gate Valve provides bubble-tight, bi-directional shutoff with its patented perimeter seal. The seal is retained in the valve body by its trapezoidal shape. A relief has been cast into the valve body. The relief greatly reduces seal compression set; the shape of the seal eliminates leakage due to seat rollover, and seat pullout
Global Leader. For more than 170 years, ITT Goulds Pumps is among the most widely recognized and respected brands in the global pump industry, serving customers in the oil and gas, chemical and general industrial markets. As the only manufacturer to make digital monitoring standard on every process pump, ITT Goulds Pumps continues to lead the industry in both mechanical pump design and the adoption of smart technologies.
Learn More >

Applications:
Highly Corrosive Applications
High Temperature & High Pressure Applications
Technology Advantage
Computational fluid dynamics
Materials science
Finite element analysis
Efficiency optimization
Controls and monitoring
Rapid prototyping